Eating Healthy on a Budget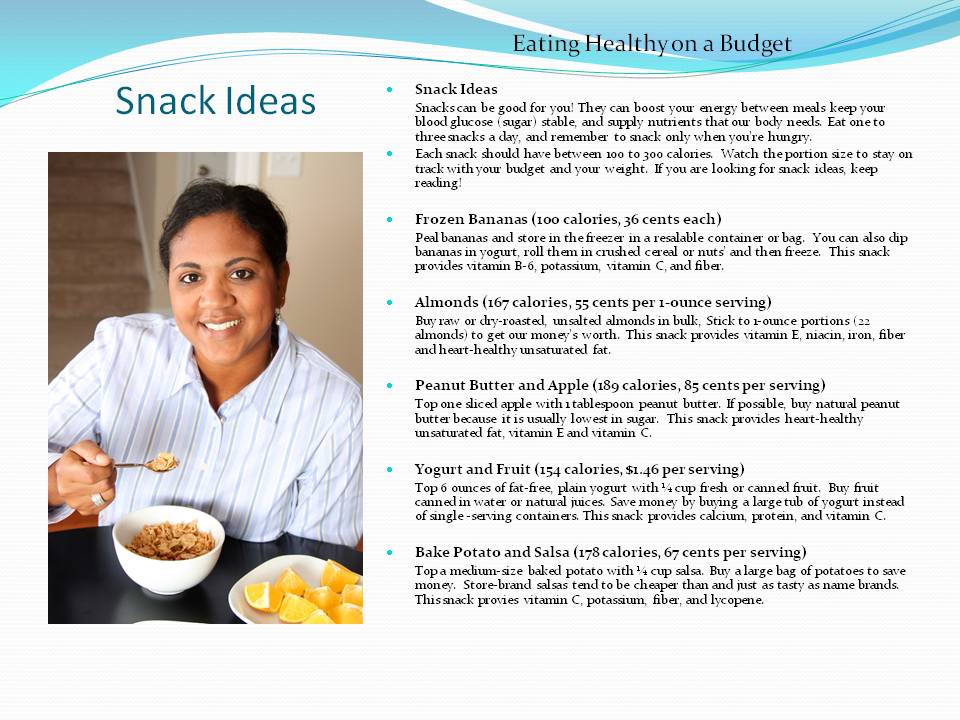 —Snack Ideas
Eating healthy snacks can be good for you! They can boost your energy between meals keep your blood glucose (sugar) stable, and supply nutrients that our body needs. Eat one to three snacks a day, and remember to snack only when you're hungry.
—Each snack should have between 100 to 300 calories.  Watch the portion size to stay on track with your budget and your weight.  If you are looking for snack ideas, keep reading!
—Almonds (167 calories, 55 cents per 1-ounce serving)
Buy raw or dry-roasted, unsalted almonds in bulk, Stick to 1-ounce portions (22 almonds) to get our money's worth.  This snack provides vitamin E, niacin, iron, fiber and heart-healthy unsaturated fat.
—Peanut Butter and Apple (189 calories, 85 cents per serving)
Top one sliced apple with 1 tablespoon peanut butter. If possible, buy natural peanut butter because it is usually lowest in sugar.  This snack provides heart-healthy unsaturated fat, vitamin E and vitamin C, just another terrific way to start eating healthy and save those pennies

—Frozen Bananas (100 calories, 36 cents each)
Peal bananas and store in the freezer in a resalable container or bag.  You can also dip bananas in yogurt, roll them in crushed cereal or nuts' and then freeze.  This snack provides vitamin B-6, potassium, vitamin C, and fiber.

—Yogurt and Fruit (154 calories, $1.46 per serving)
Top 6 ounces of fat-free, plain yogurt with ¼ cup fresh or canned fruit.  Buy fruit canned in water or natural juices. Save money by buying a large tub of yogurt instead of single -serving containers. This snack provides calcium, protein, and vitamin C.
—Bake Potato and Salsa (178 calories, 67 cents per serving)
Top a medium-size baked potato with ¼ cup salsa. Buy a large bag of potatoes to save money.  Store-brand salsas tend to be cheaper than and just as tasty as name brands.  This snack provide vitamin C, potassium, fiber, and lycopene.
The Basics
Your body needs the right vitamins, minerals, and other nutrients to stay healthy. A healthy diet means that you are eating healthy at all times, so do yourself and your body a favor.  Start consuming healthier foods with these great snack idea's and watch the belly fat melt away.

Related Articles

Return from eating healthy on a budget back to destroy belly fat home page